WHAT IS A PHOTOGRAPHY STUDIO?
A photography studio is a creative space designed for the purpose of producing photographic materials. Each photo studio could be different from the others based on the features and equipment that they provide. However, the most common feature that all photography studios should have is a controlled environment in terms of lighting. A decent photographic studio will give the ultimate control over lighting and make it possible for a photographer to create and design the mood and look based on the project. Having multiple background choices could also count as an advantage, while at least one seamless backdrop is necessary for each studio. 
A Cyclorama (Infinity Cove Wall) Photography studio is where the stage suggests an infinite background and you can not see any corners or edges where the side or back walls meet the ground or the ceiling.  This is achieved by the special way of stage construction which is also referred to as "Cove Wall" or "Infinity Wall" as well as getting help from lighting. This feature is used in order to create an illusion of endless background, seamless space, and no visual obstruction. Traditionally, the Cyclorama stage is built in white, but you can paint the stage to any colour including green or blue for a perfect green screen or blue screen.
WHY PHOTOGRAPHY STUDIO AT AQUIFER FILM?
Our studio offers a white Infinity Cove Wall (Cyclorama) as standard with all the bookings, as well as an additional range of colour Colorama Paper backgrounds. All Photography bookings also comes with a full flash light kit (3 x 600w heads with soft boxes and optional accessories). The 40 sqm (430 sq ft) U-shape Cyclorama stage with the dimension of 6.8m x 5.7m x 1.5m and 3.8m height gives you the flexibility that creative minds defiantly appreciate. You can easily drive in a car onto the stage, build your set, or anything that our inspiring space allows and let you achieve the result that you are looking for. Photoshoots from macro to large scale and in different types of projects (Portrait photography, E-Commerce Photography, Promotional, etc) can all benefit from Aquifer Film and photography Studio in a way that works for them. Possibilities are infinite in this infinite space!
HOW MUCH DOES IT COST FOR A PHOTOGRAPHY STUDIO TO HIRE IN EAST LONDON?
Our Photography Studio Hire in East London is covered with the introductory fix rate as part of the standard package! This feature is included in all bookings and you can benefit from it with the base rate. We regularly maintain our white Cyclorama stage and paint it when there are significant marks especially on the floor, however, If you wish to have fresh white paint on the floor just let us know in advance and we will paint it with no extra charge! 
WHAT IS INCLUDED?
 FACILITIES
110 sqm (1180 sqft) Studio Space
40 sqm

 (430 sqft)

 

U-shape cyclorama stage ( 6.8m x 5.7m ) 4.3m height

Up to 12m U-SHAPE BLACK WOOL-SERGE DRAPES

Wired lighting grid ( 16 amp and 13 amp )
32AMP 3-PHASE power with detachable Distribution box (RUBTR6)
Hair and Make-up area – 2  Vanity tables with Hollywood mirrors
Changing area
Shower room and toilet
Kitchen and lounge area with tea/coffee facilities
High-speed Guest WiFi
Sony GTK-XB72 One-box sound system
Ground floor roller shutter access
EQUIPMENT
3 Fixed LED TOPLIGHT (Chroma-Q Space Force onebytwo™ – soft 2800K – 6000K) with DMX controller 

2 x C-STANDS (300cm W127CM 2 x Boom Arm 4 x Grip head)
6 x SANDBAGS (Neewer® black/yellow dual grip)
3 x B&W POLYBOARDS and stands
* * 3 HEAD Citi600 PRO PORTABLE FLASH KIT available for hire (Click for details)
HOW TO BOOK
– Give us a call on : 020 8050 8212
– Or email us at : [email protected]
– WITH : The summary of the shoot
– AND : If you need fresh paint on the floor
IN-HOUSE PHOTOGRAPHER AND PHOTO PRODUCTION PACKAGES ARE AVAILABLE
Contact for details
WALKING DISTANCE TO SHOPS
SELF STORAGE, 1 MIN DRIVE
PETROL STATION, 1 MIN DRIVE
FIRE STATION, 14 MIN DRIVE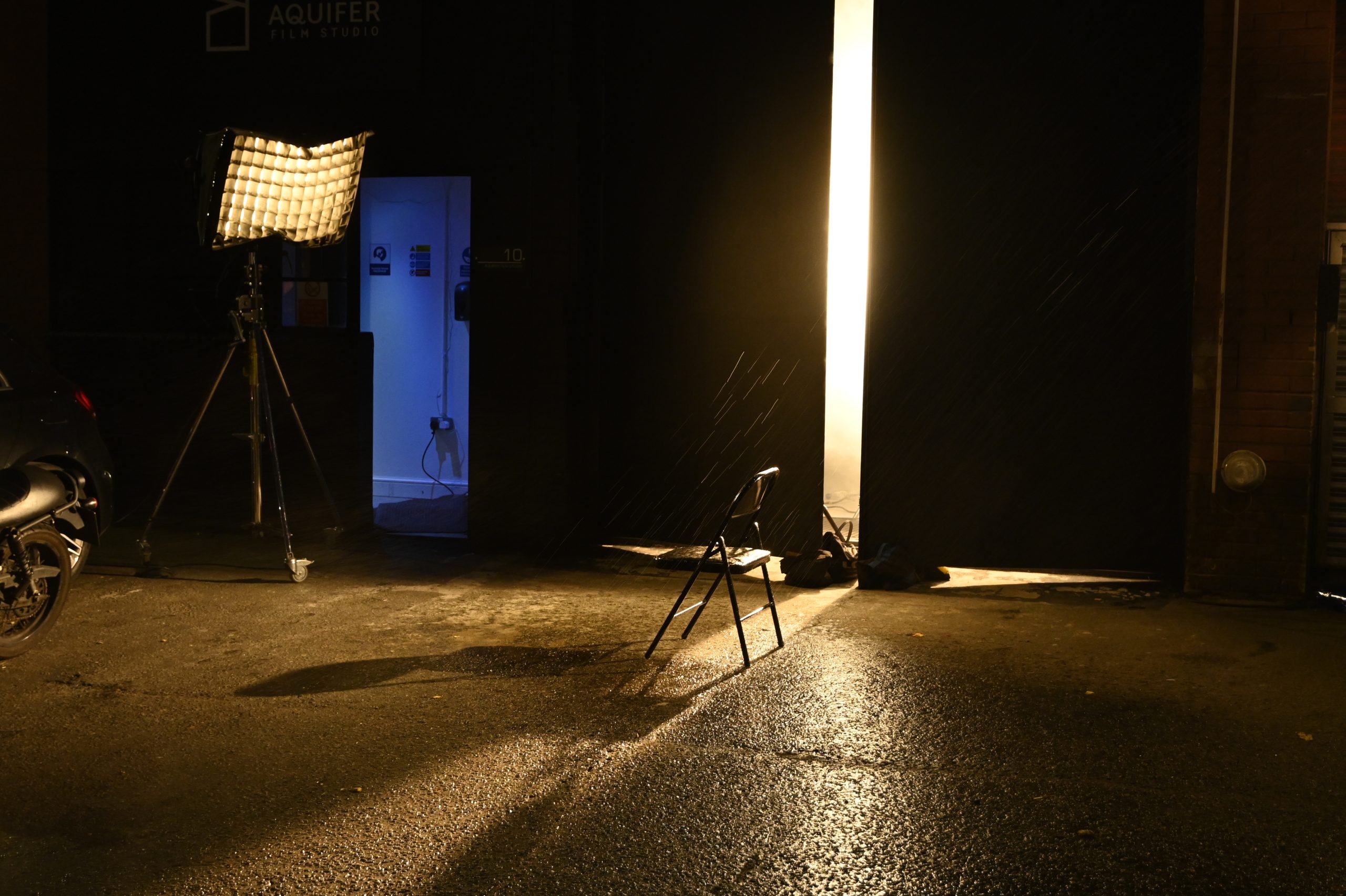 With full 24/7 access, we are offering unlimited timescale in our calendar. You do not have to worry about tailoring your shoot in our studio based on the opening hours. If working at night and doing a night shoot is what saves you in production cost and time, then let us know and we will arrange a time that works for you.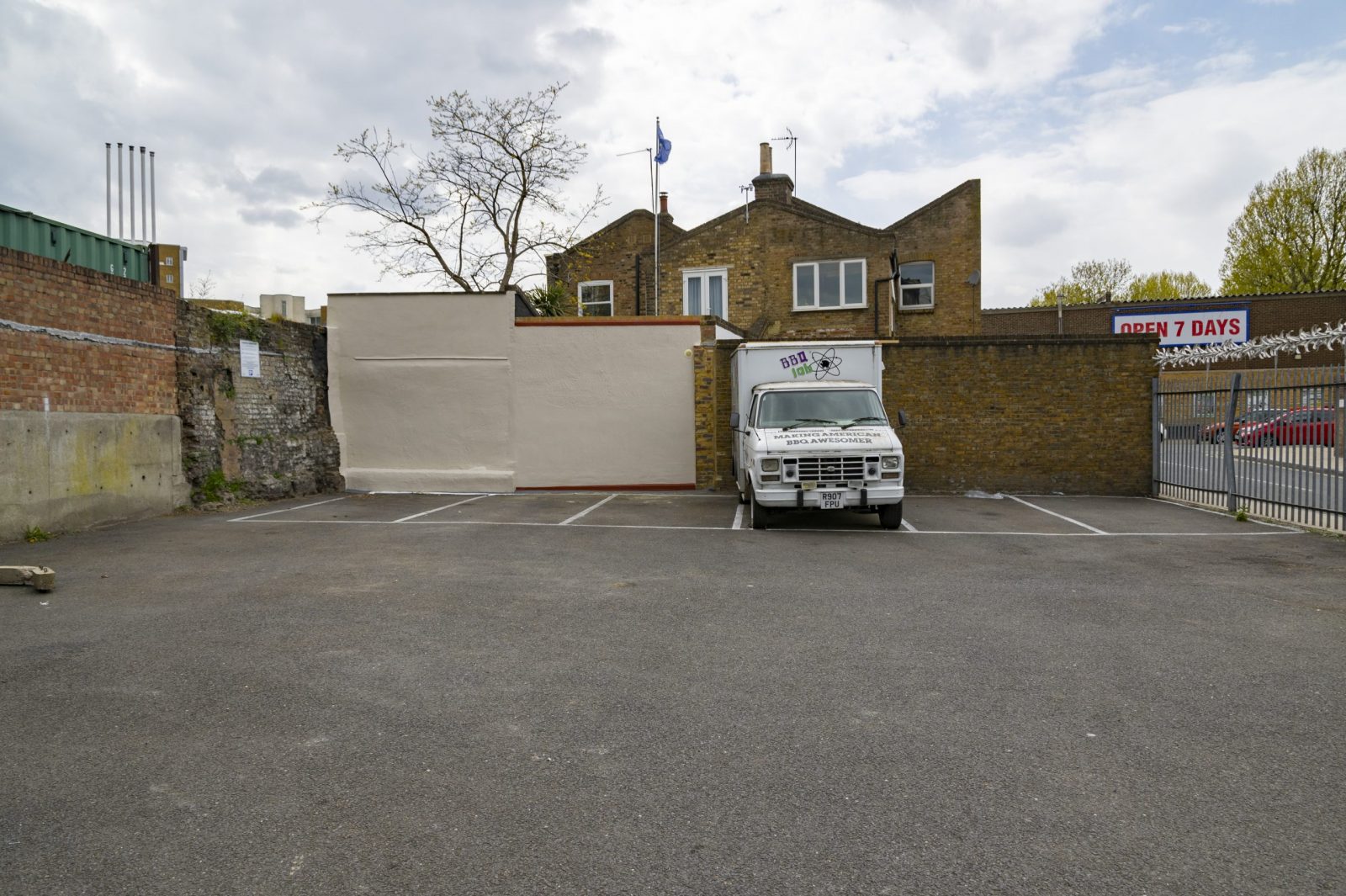 All the parking spaces are right on the doorstep of the studio and in a private yard managed by the external parking management company. On your arrival, you will be provided with the instruction to pay for your parking based on the duration of your stay.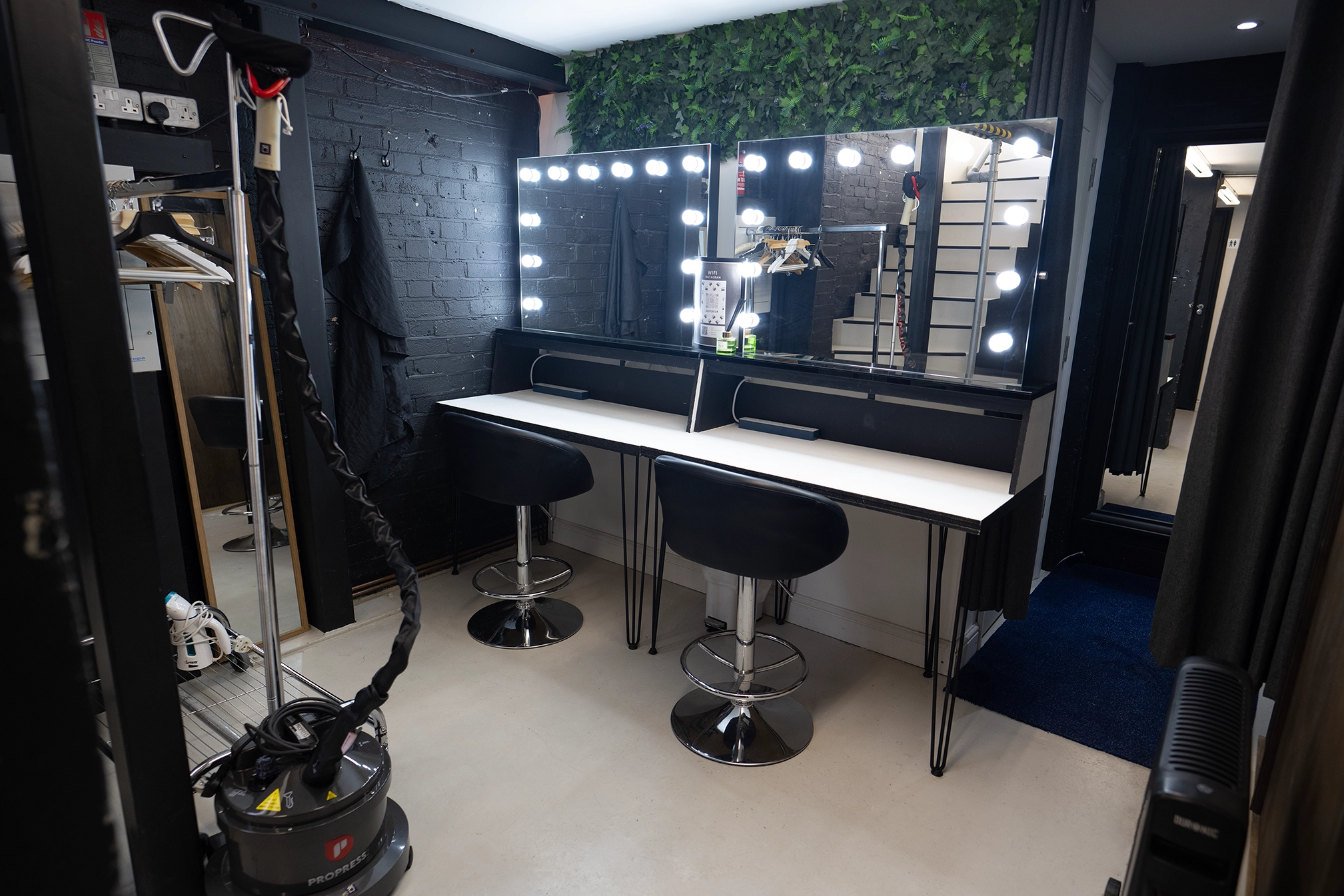 As part of your booking, you will have access to the hair and make-up area, which includes two vanity tables with 100 x 70cm Hollywood mirrors and dimmable LED lights. Both tables are also equipped with 13amp plugs as well as USB ports and chargers for all kinds of phones and tablets. In case there is heavy make-up involved, there is also a shower room for a piece of mind.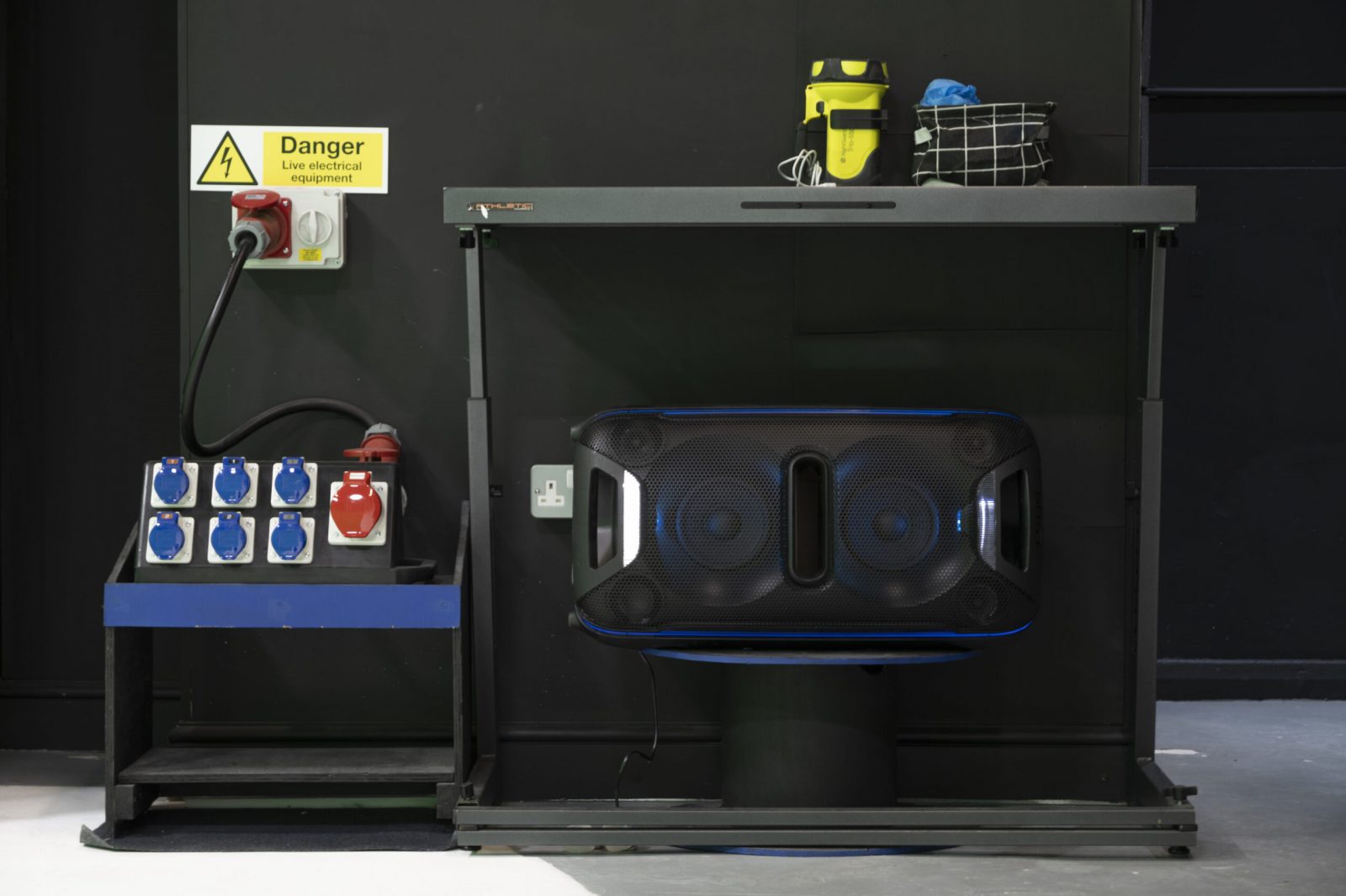 We are proud to be running on 100% renewable energy in our entire space of the studio. We are running on a 64amp Three-Phase power supply for our studio, from which the stage has its own dedicated 32amp Three-phase power supply. With this, you can always make sure there is plenty of power available.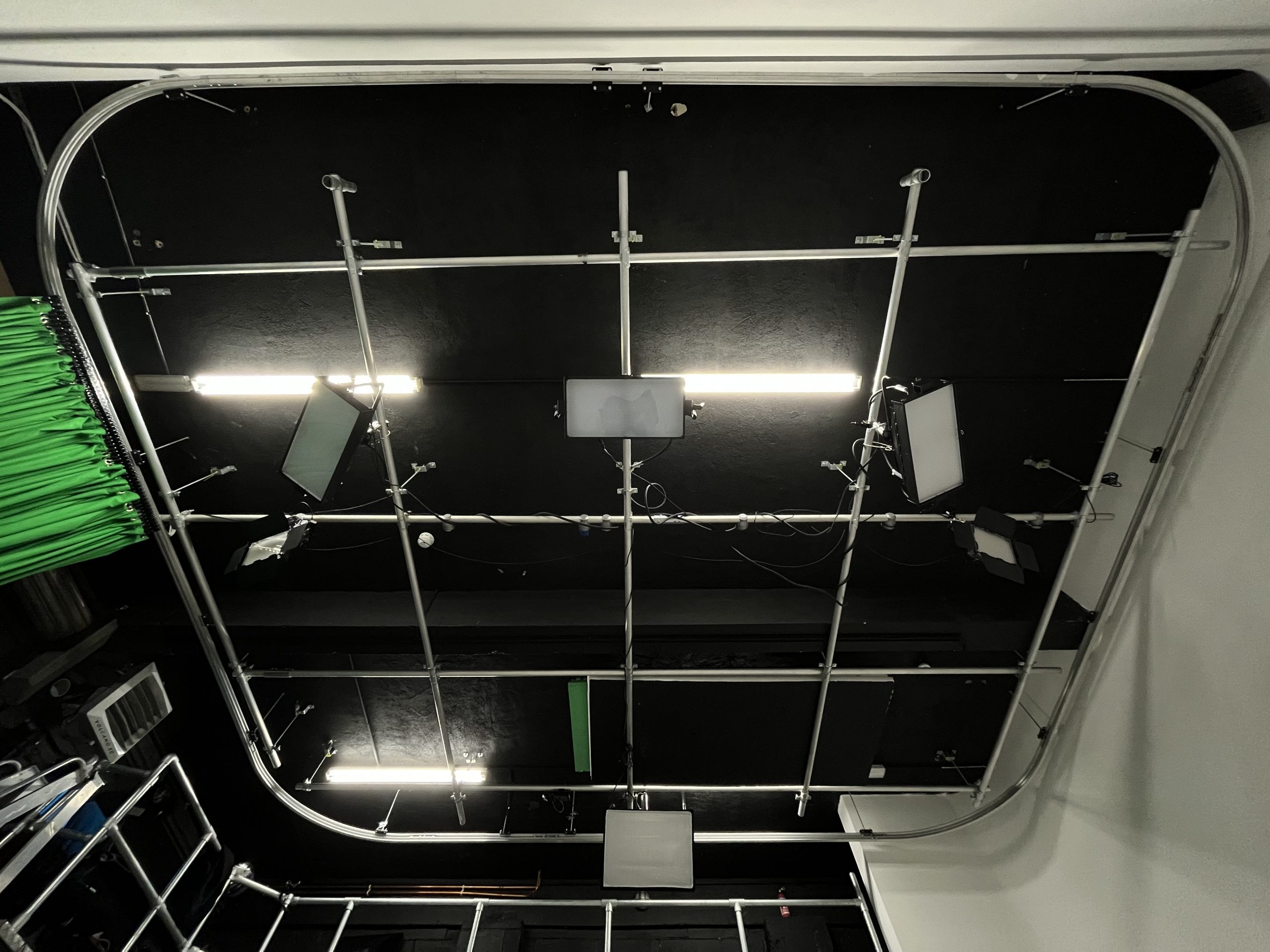 FIXED WIRED LIGHTING GRID
With a full fixed-wired lighting grid all over the stage, you can light the scene with a lot of flexibility without running cables from the grid to the ground by using 16amp and 13amp plugs on the grid itself. This can help massively to reduce the risk of running too many cables around and fewer visual abstracts on the stage. The crew and production also save time with this feature and ultimately bring down the cost.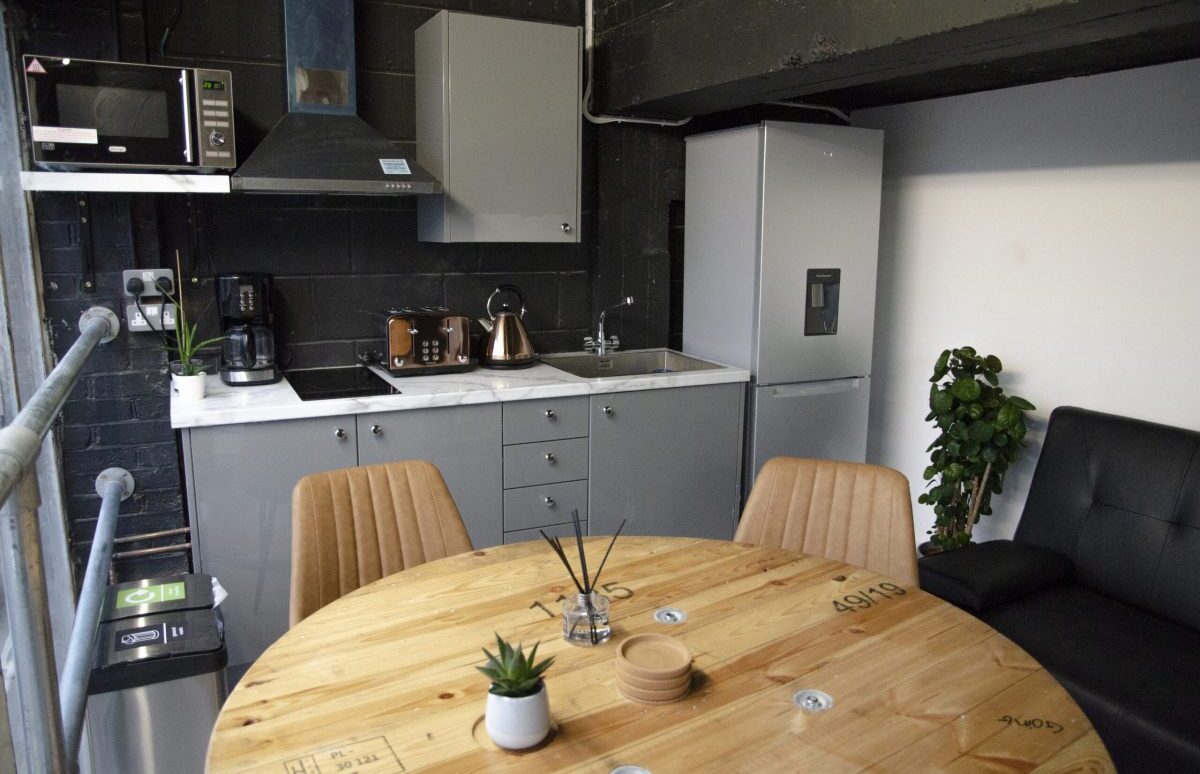 When you book with our studio, you will also have access to our kitchen facilities and the lounge area. We have a fully fitted kitchen with tea and coffee facilities, an electric hub, a fridge, a freezer, and a microwave oven. This is a great area for your cast and crew to spend time away from the stage as well as a space for your catering.
BALCONY OVERSEEING THE STAGE
One of our unique and inspiring features in the studio is our balcony overseeing the stage. This balcony has a great view over the stage as well as providing special possibilities for creative works. Your VIP guests, producers, and even some crew members can utilise this space in their own ways. You can use it to mount lights or even place your camera for low-angle shots without spending a fortune on different pieces of equipment. This will defiantly add a high-value point of view to your production.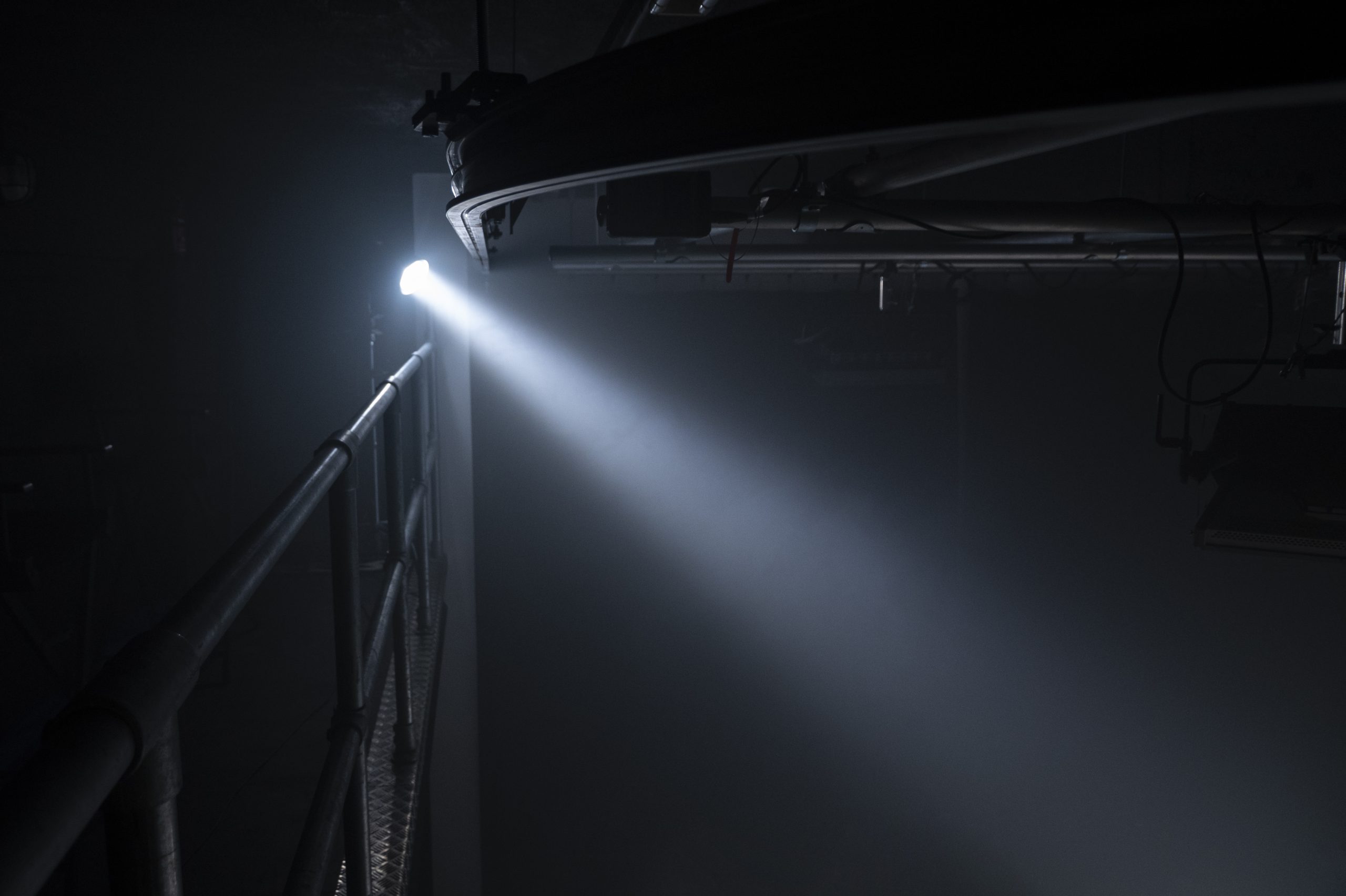 The 360-degree curtain track around our stage allows you to move the Blackout drapes and Green screen drapes to any desired position based on your scene. Achieving a U-shape drape in any direction that works for the shot is an easy task. You can easily move, remove and reposition the drapes.